Senior Member
Join Date: Jan 2016
Location: Colorado Springs
Posts: 450
Totaled but not done
---
I will try to make a long story fairly short. On highway 67 heading north just past the sign that says "Mototcycles Use Extreme Caution" there is a good left hander followed by a left right Shepherds Crook. All of it recommended at 25mph.
Traveling about 30 and the car in front of me took the first one just fine, but for some reason freaked out about the second one and hit the brakes halfway through. I was already committed to the turn, but have no excuses. I went off the road on to the gravel shoulder with the front brake still applied. Last thing I remember was seeing the edge of the road pass under the front tire.
What did i do wrong?
1) Following too close. Didn't think so at the time, but there it is.
2) Panicked. I could have just stood the bike up and grabbed as much brake as possible. I would have maybe hit the car with a 5mph differential. I could have also kept turning and at worst would have low sided. Instead, I half-assed the brake and aimed myself off the road.
3) Stayed on the front while leaving the pavement. Front tire dug in and launched me. All of the damage is to the right side of the bike from a left hand turn.
4) Fixated on that rapidly approaching gravel. Looked right where I ended up.
I lost about 30 seconds, because the next thing I remember was that I was standing up and a man was walking toward me asking if I was ok. He seemed shocked when I sort of laughed and said "Yeah, but that really sucked". A fireman on his was to work stopped and asked me the same thing, staring into my eyes, looking for signs of shock or concussion. Told him I was good, but the bike would need some work.
So what went right?
I WORE my g-damn GEAR! Near as I can tell, I initially landed on my head and right shoulder. The back of the helmet and jacket bear this out, as well as the giant bruise on my right collar bone where the bottom of the helmet hit it. This bruise and a lot of sore muscles is the total of my injuries. Nothing else. The firemen told me that they have already picked 13 people up from that corner this year, 2 of them did not make it. He kept talking to me for a while, I think that he was expecting number 14.
After about 15 minutes to make sure that I was actually fine I mounted up bump started the bike (gonna need to check the starter switch) and headed the 40 miles back to home, pieces of bike flapping in the wind, one handle bar a bit lower than the other. Man did I get some looks.
3 days later now. Doctor 2 days ago, but x-rays and ct scan showed nothing that would even get me good painkillers. Insurance totaled the bike and all of my gear today, but I am sure I can get it back on the road, better than it was with the money they gave me.
Bottom line is this. If I hadn't been wearing the helmet I doubt I would have made it out of there. If I only had the helmet on, I definitely wouldn't have been able to ride home. On the way home I passed several people wearing a helmet and shorts, or just the shorts. One guy was just wearing his girlfriend near as I could tell.
ATGATT people.
---
John Z.

If you can't explain it simply, you don't understand it well enough. -Albert Einstein
Member
Join Date: Feb 2012
Location: Oregon
Posts: 85
Glad you're OK, sorry about the bike
Junior Member
Join Date: Sep 2016
Location: Gainesville, Florida
Posts: 10
Glad you're ok. I've never seen a sign say "Motorcycle Use Extreme Caution" before, and I imagine if I did I would have stopped my bike to 5mph clutch roll. Do you have any pictures ?
Senior Member
Join Date: Jan 2016
Location: Colorado Springs
Posts: 450
I took this picture 2 weeks ago when I first "Discovered" the stretch of road. You are looking at the first of the 2 turns in the background. The second turn goes left and then right, with a blind exit around the backside of the hill.
---
John Z.

If you can't explain it simply, you don't understand it well enough. -Albert Einstein
---
Last edited by john z; 4-21-2017 at

8:27 PM

. Reason: FIx the image
Senior Member
Join Date: Jan 2016
Location: Colorado Springs
Posts: 450
And how about a before and after of my bike...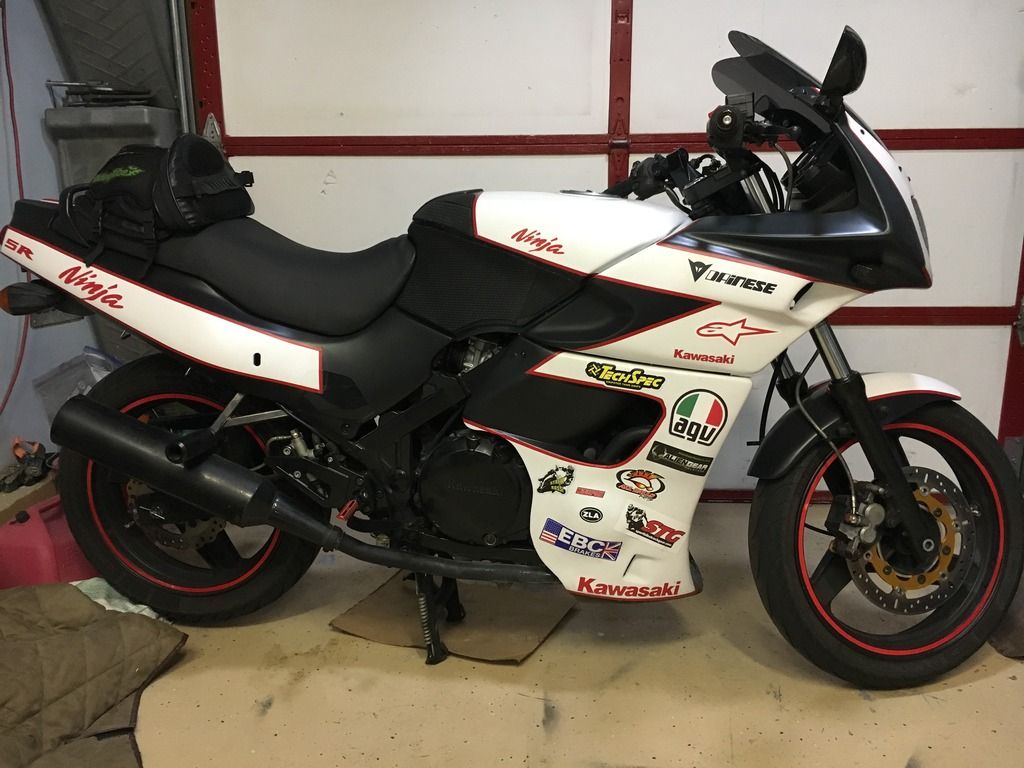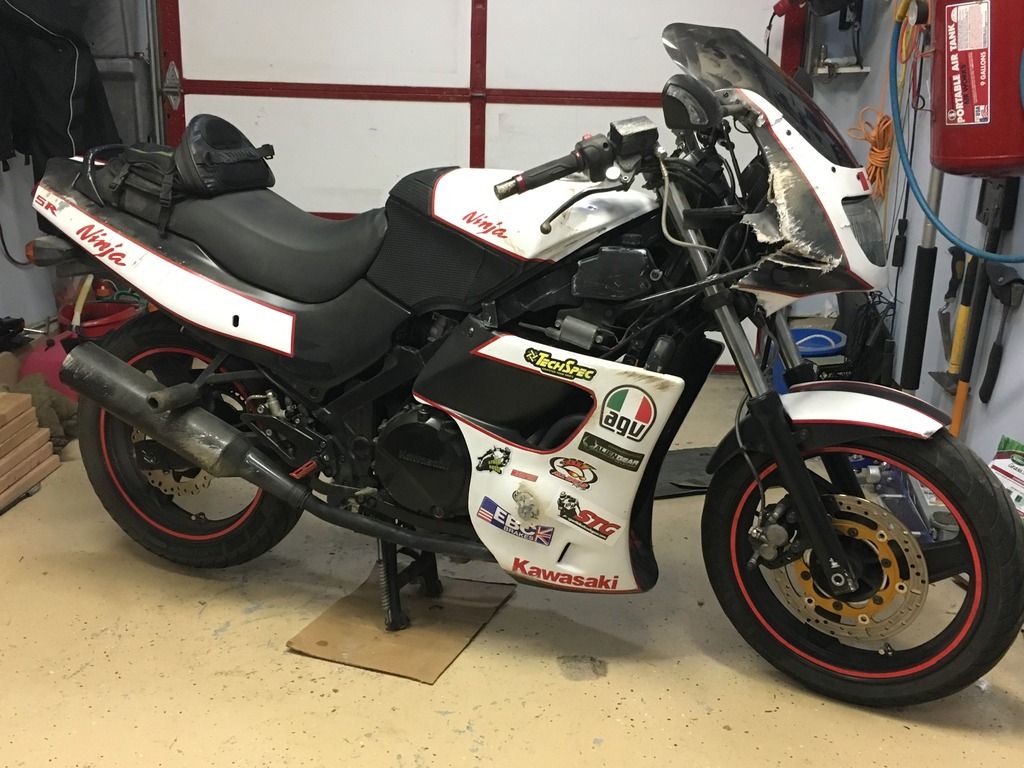 ---
John Z.

If you can't explain it simply, you don't understand it well enough. -Albert Einstein
Glad you're OK.
I also freak out when I see people at high speed wearing just shirts, shorts and sneakers

Seeing your bike...
Damn! That is a bummer...
Your bike looked so nice. Hope you can get it again on the road as nice as before.
---
Only two things are infinite, the universe and human stupidity, and I'm not sure about the former. -Albert Einstein.
2007 Ninja 500R
Ex-500.com Vendor
Join Date: Feb 2008
Location: NEW YORK
Posts: 12,149
JZ..unfortunate..glad to hear you are ok...thats the main thing. The bike secondary, always fixable or replaceable.

Heal quick!
---
Custom Carb Service
**Being shot out of a cannon will always be better than being squeezed out of a tube. That is why God made fast motorcycles, Bubba.... Hunter S. Thompson**
Welcome back. We haven't heard from you in a while, but sorry it's under these circumstances.
Glad to hear you're alright and hope you get the bike back in shape soon.
Thanks for the words of wisdom also.

BTW, "wearing his girlfriend", LOL
Wow, thought the bike would look immensely worse for being totaled.
Best thing is that you walked it off and rode home.
Senior Member
Join Date: Jul 2012
Location: Grand Rapids-ish, MI
Posts: 2,386
I missed it when you posted
pics of the bike
before. I think that Targa fairing still looks better after the crash than last time I saw it.
Glad you're ok, especially considering the other 13 that weren't.
---
To view links or images in signatures your post count must be 10 or greater. You currently have 0 posts.
*** I'm not your mom and I'm not paying for your parts, so do whatever you want with your own bike. ***