Discussion Starter
·
#1
·
I bought one of these kits about three weeks ago. Tonight I finally had some time in the garage to install it. First off, it's a very nicely done kit. I went ahead and bought the optional blockoff gaskets for an extra $5.00. The kits cost $26.00 including shipping. The kit is offered up for sale in Classifieds\For Sale section.
http://www.ex-500.com/index.php/topic,35066.msg525439.html
Here is the kit as I received it. There is a well written paper with installation instruction included. The installation instructions are also available as a download on the seller's site.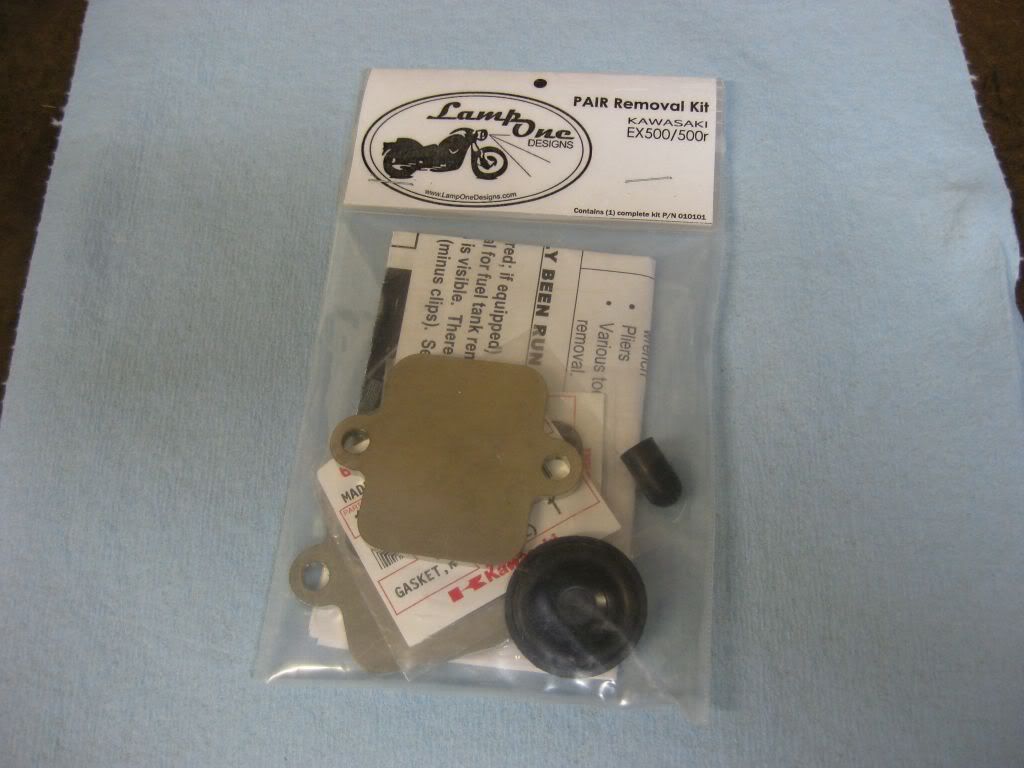 The plates are pretty thick, as are the Kawasaki blockoff gaskets.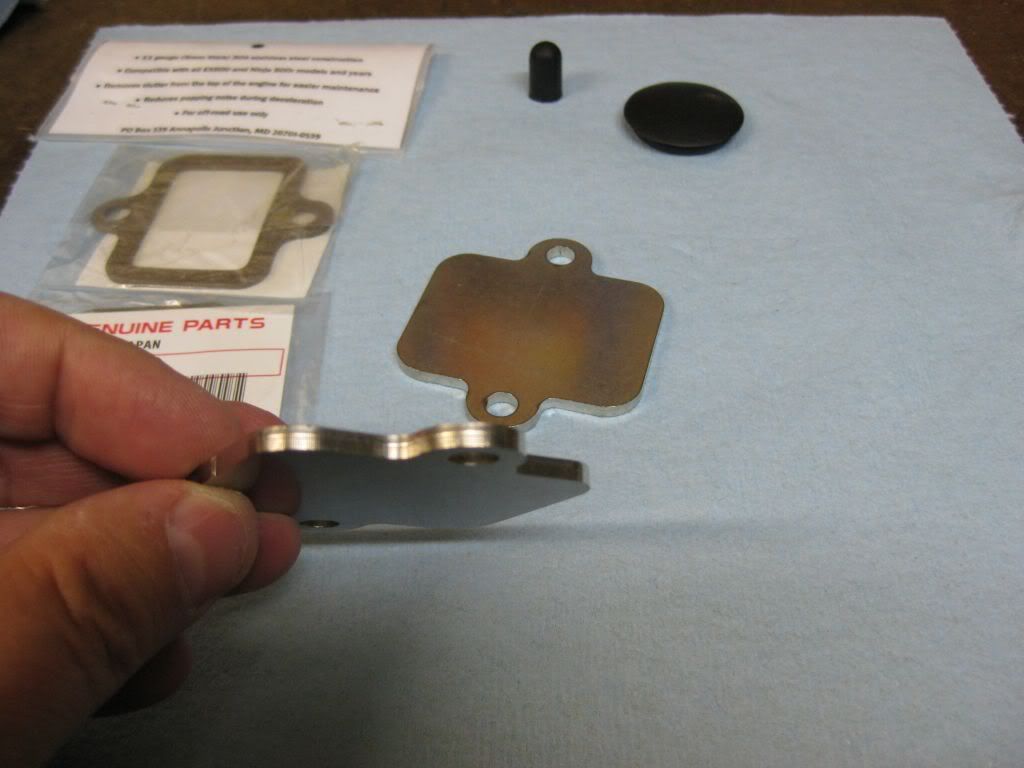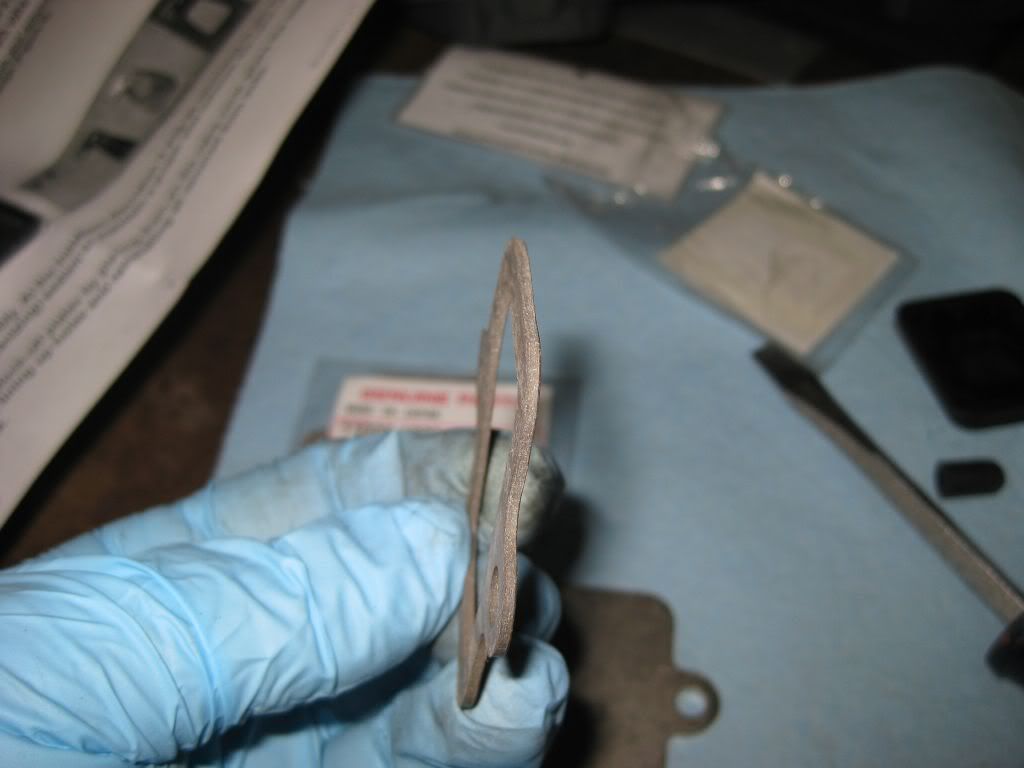 First the tank must be removed. I always take off the front fairing when I do this because I usually don't have a helper and this prevents me from scratching up the fairing while removing the tank. After I removed the tank and front fairing everything is very easy to get too. If I hadn't stopped to take pictures the removal of the PAIR system and installation of this kit would have taken just a few minutes.
Here is a top view of the engine with the PAIR system still installed.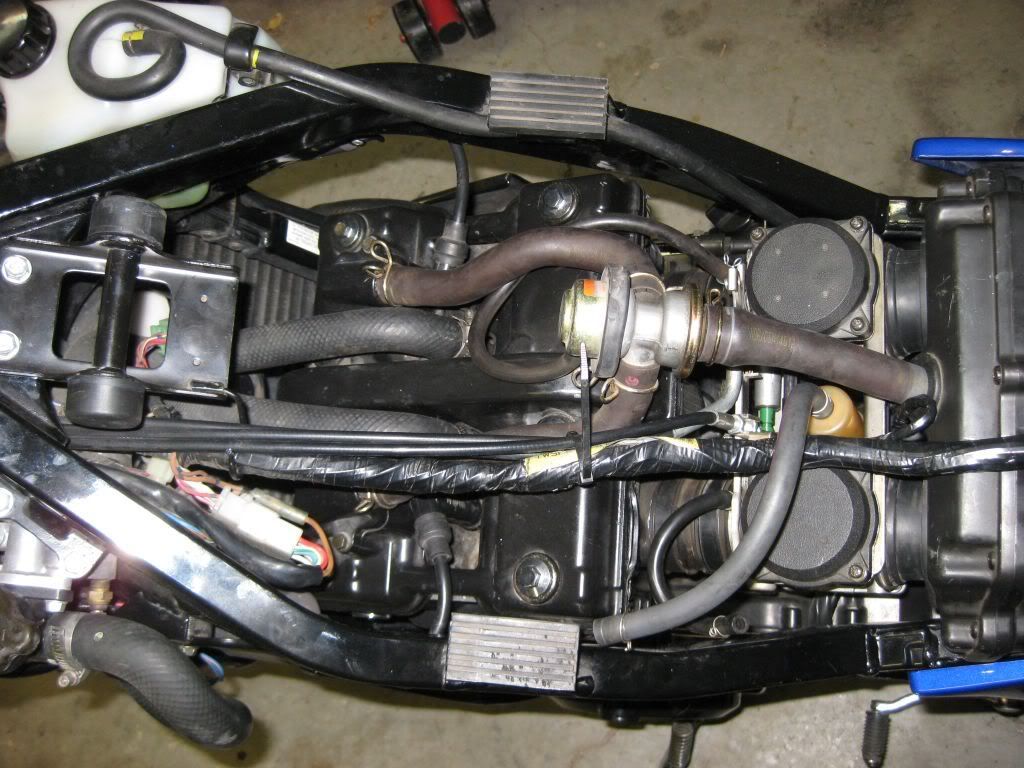 The block off plates go on the left and right sides of the valve cover. Before they can be installed, the PAIR tubes must be removed along with the reed valves. Since I bought the optional PAIR blockoff gaskets, I didn't have to reuse the reed valves as gaskets. If you don't buy the blockoff gaskets the reed needs to be removed from each valve to keep the reed retaining screws from holding up the blockoff plate and keeping them from sealing properly.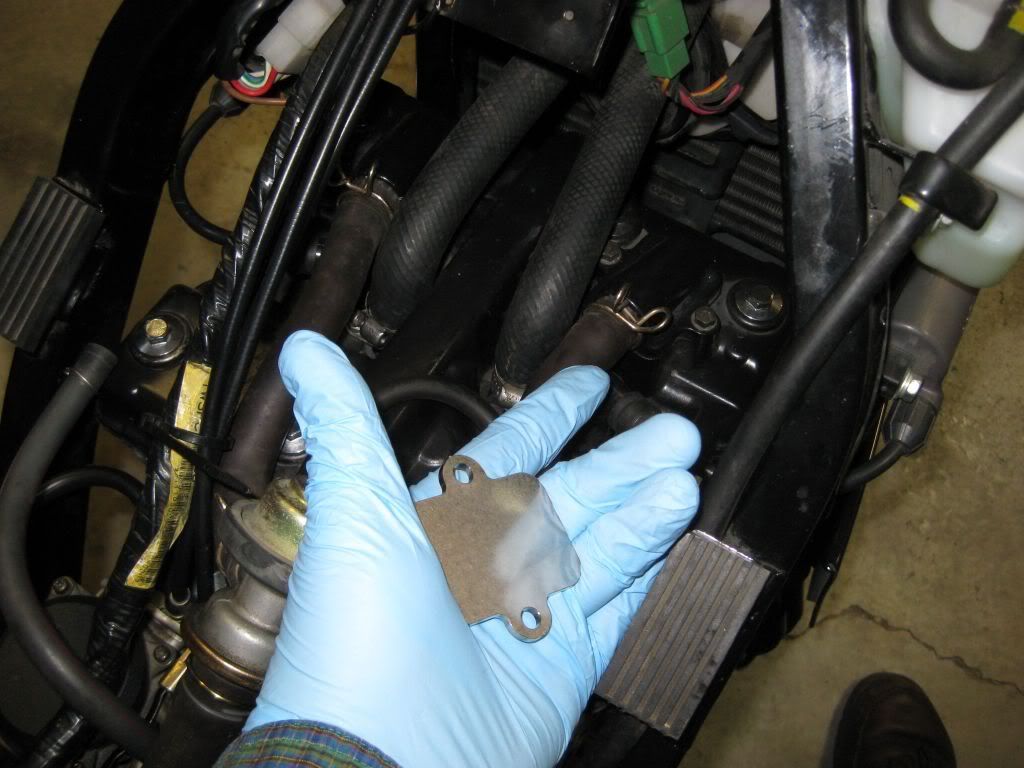 Before the blockoff plates can be installed the PAIR tubes need to be removed. An 8mm socket and racket is your friend here. A universal joint is helpful for the left side if you have one as it's a bit more crowded on that side.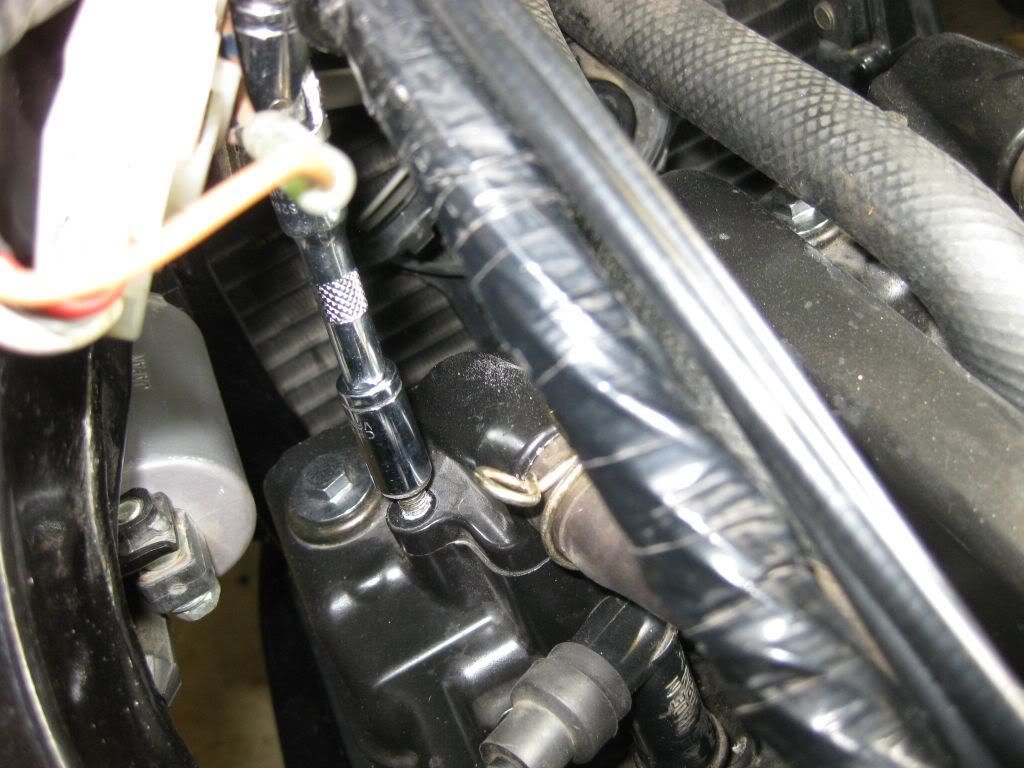 The PAIR tube has been removed, exposing the reed valves.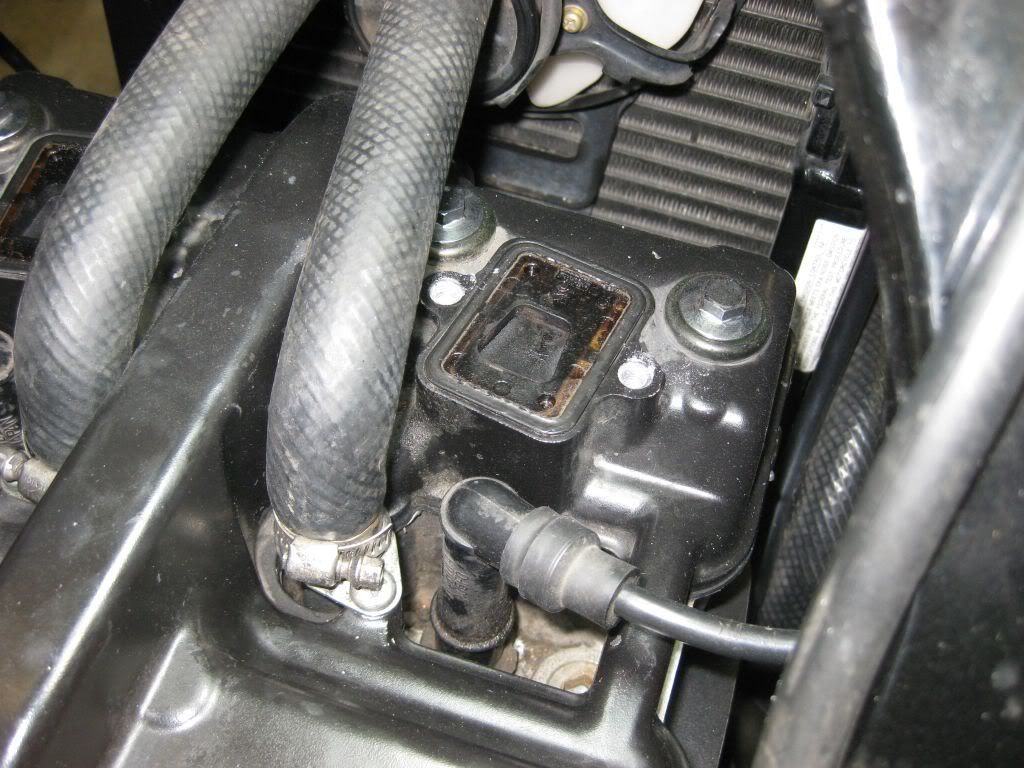 Removal of the right side valve assembly. I used an inexpensive pry bar that I had. (Purchased at Harbor Freight.)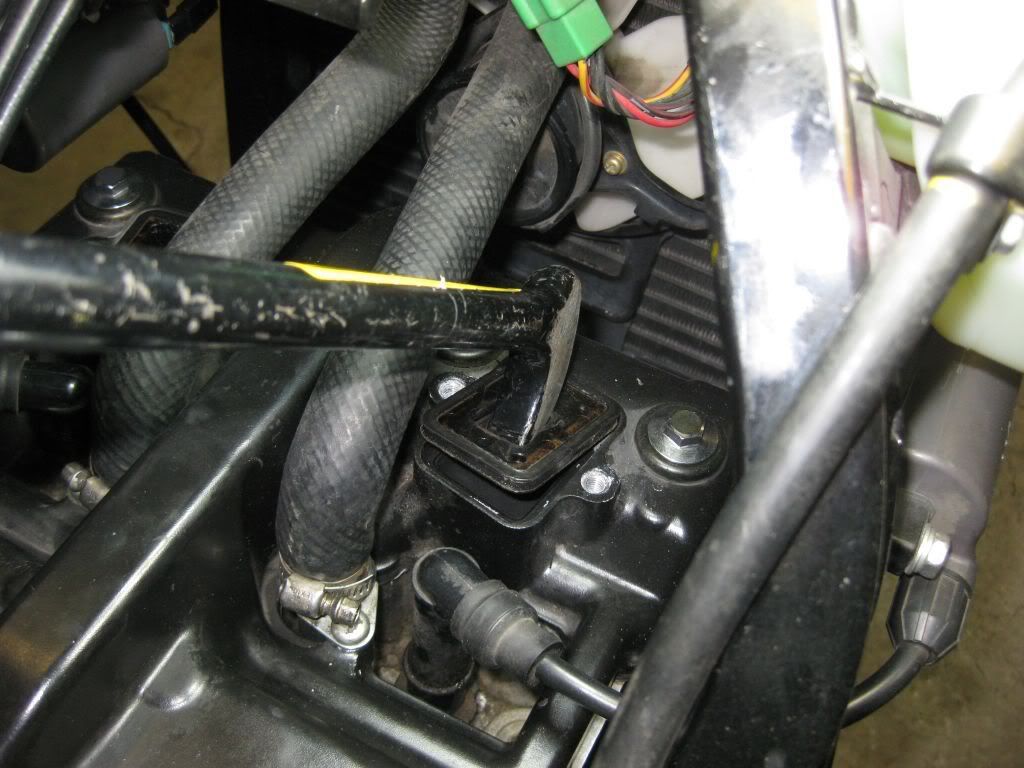 Blockoff plate being installed.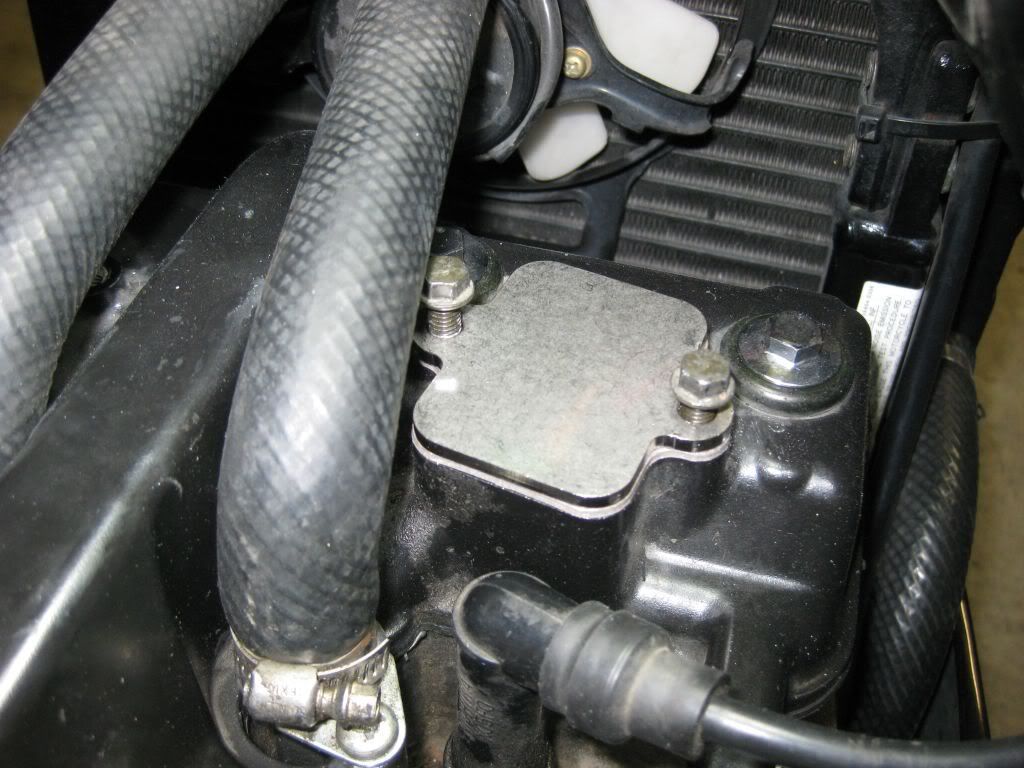 Left carb nipple and cap.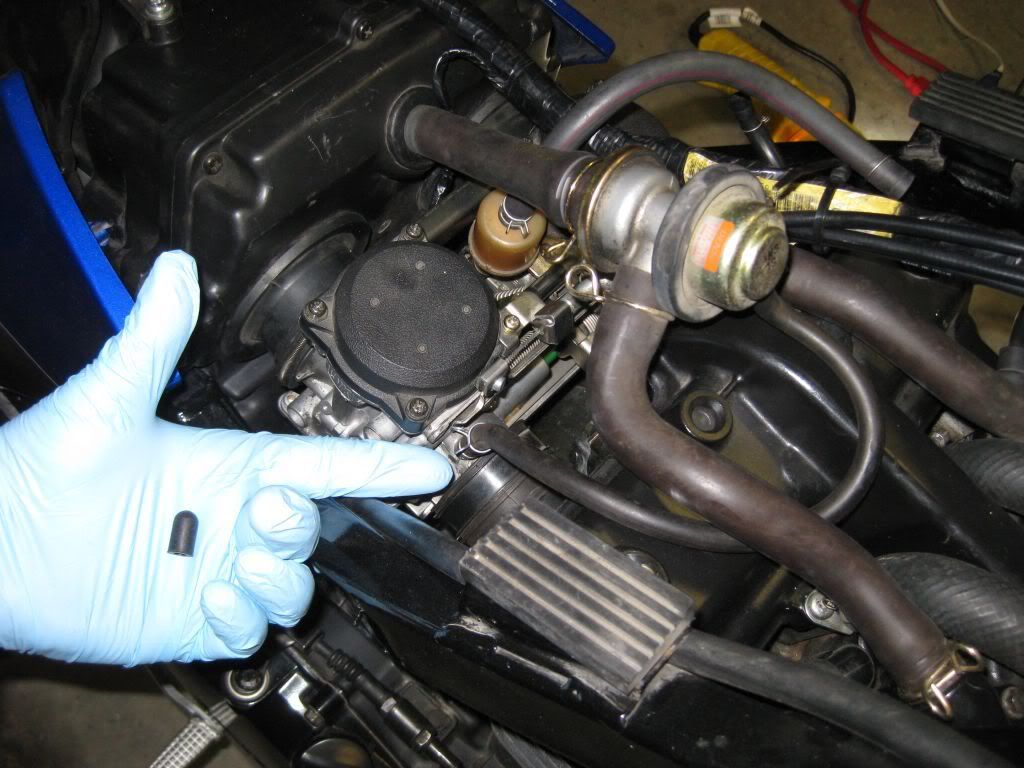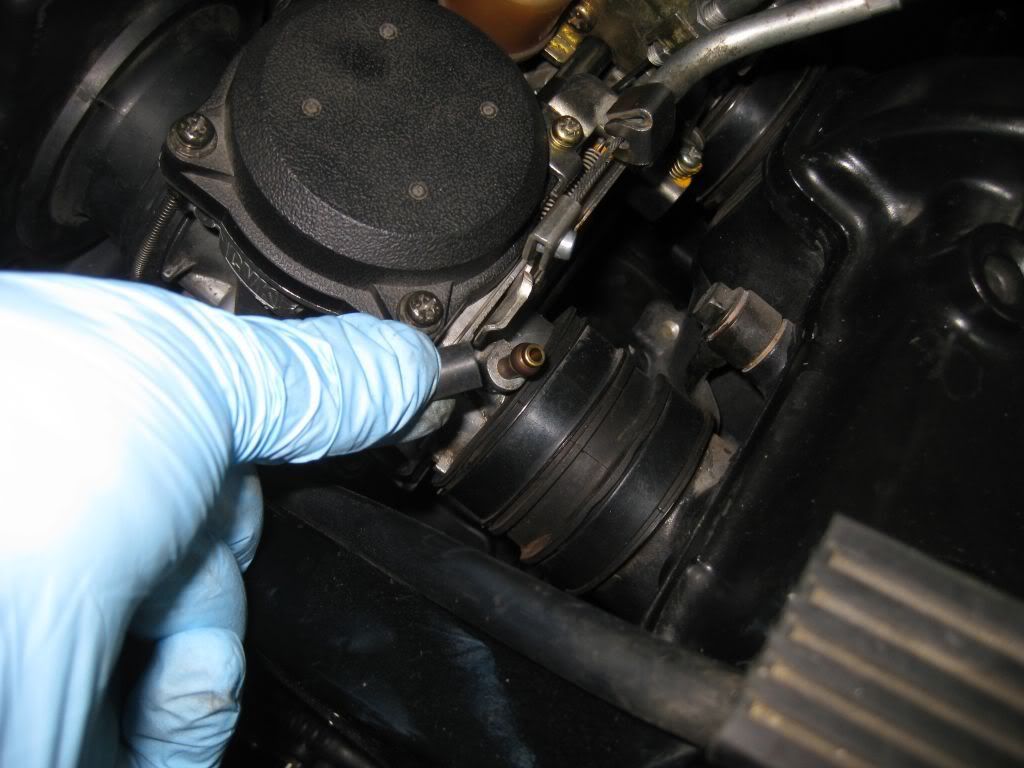 Carb cap installed.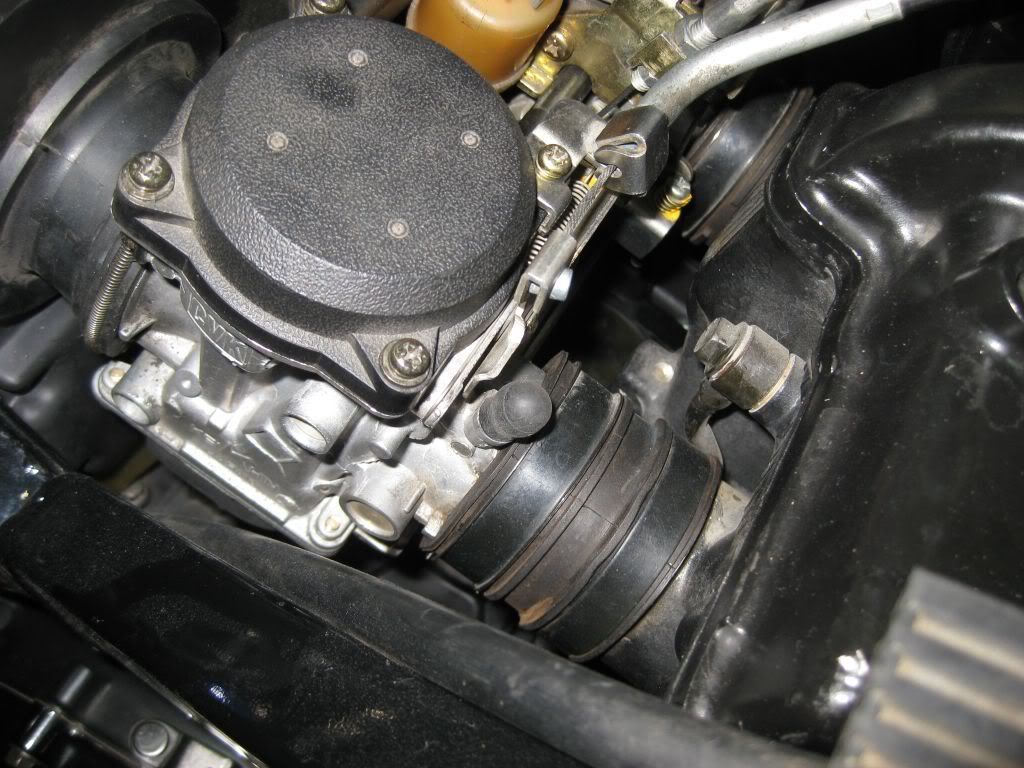 The large tube that enters the air box just pulls out. It is a pretty snug fit so don't be afraid to muscle it out. For this kit, the rubber grommet for that large tube has to be removed as well.
The air box blanking grommet before installation. (Left side shot.)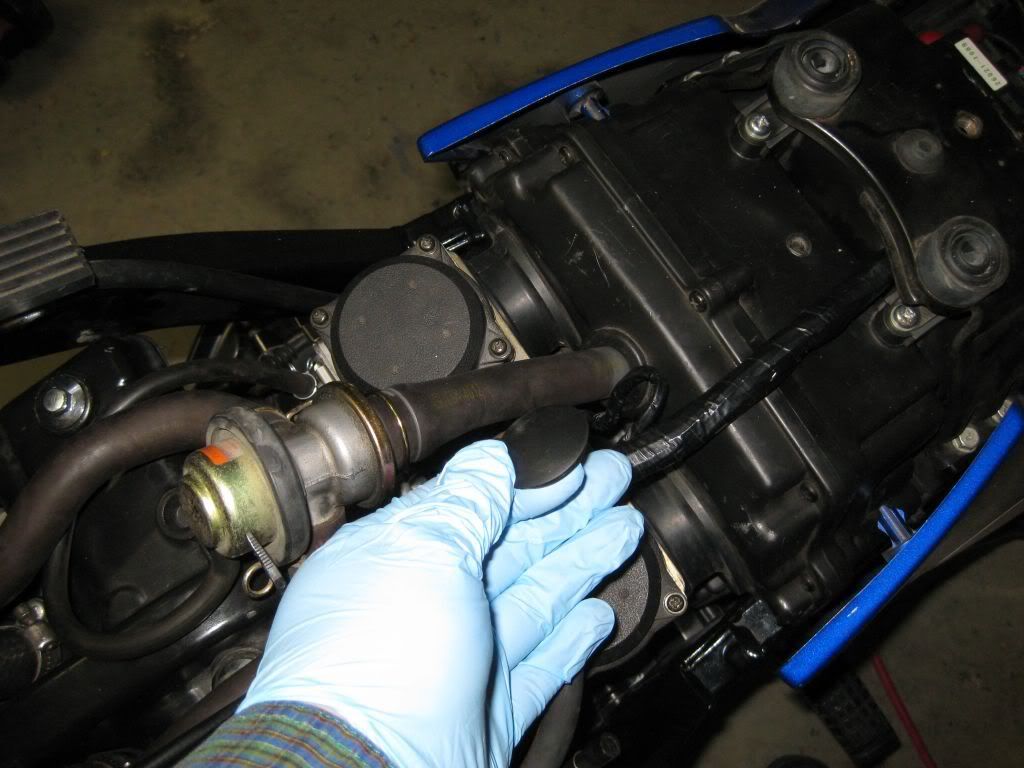 Air box blanking grommet installed. (Right side shot.)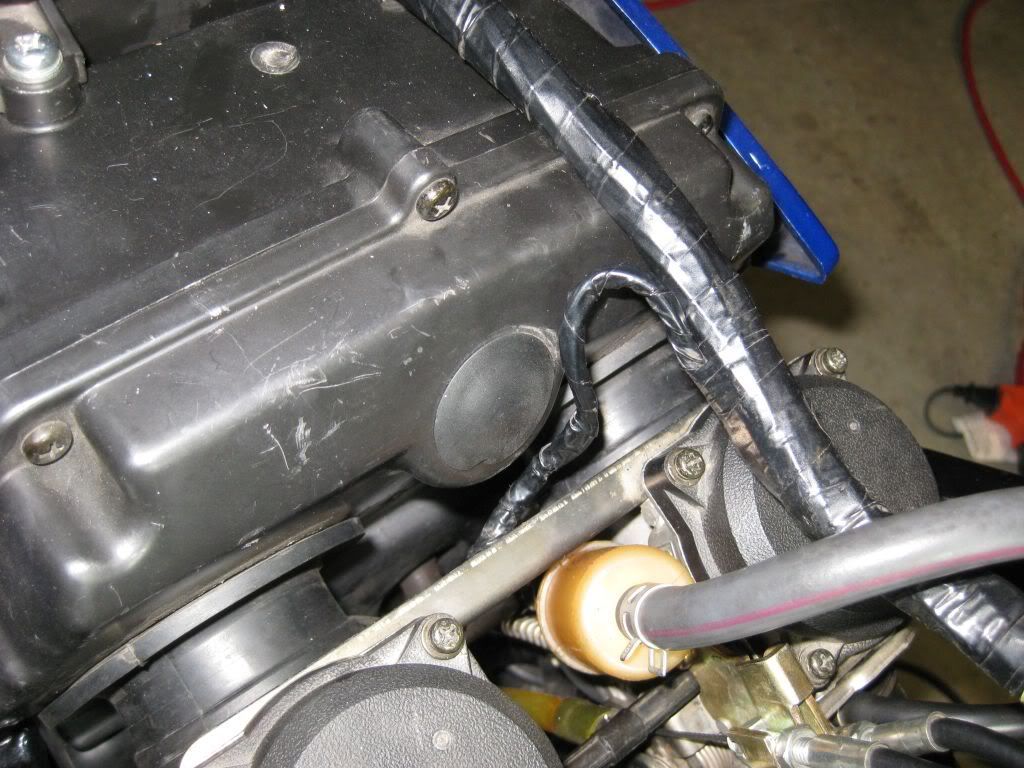 The PAIR system has been removed. This is much cleaner and the bike is a bit quieter as well as the PAIR system adds some intake noise. The the noise difference isn't great.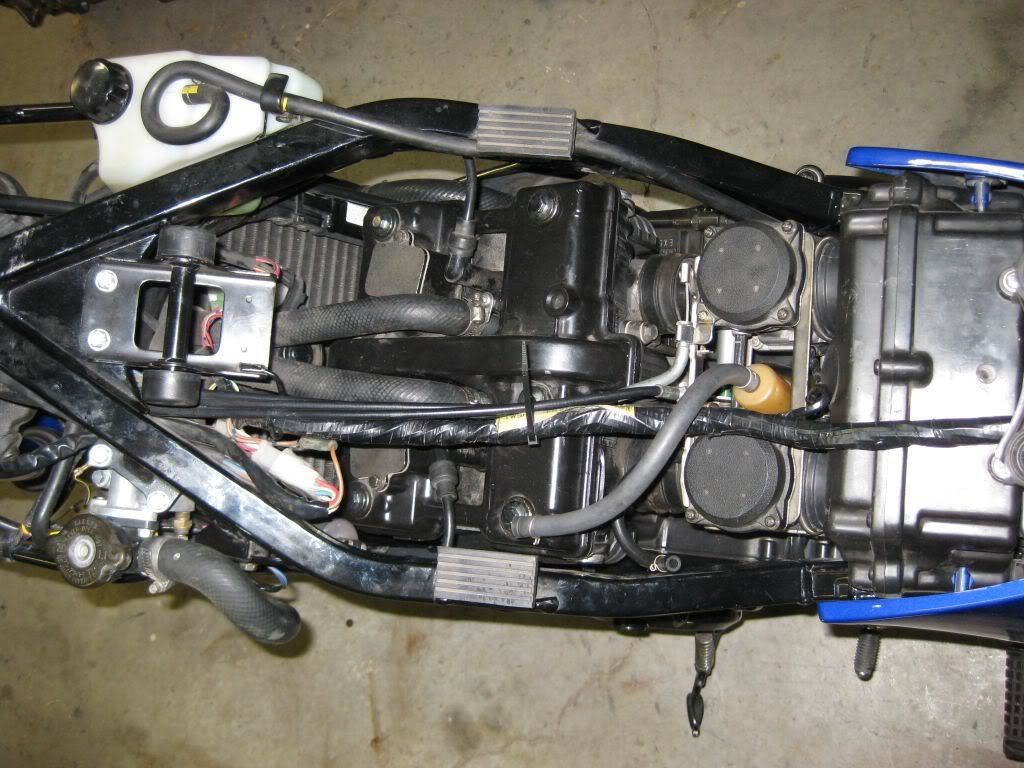 The complete PAIR system.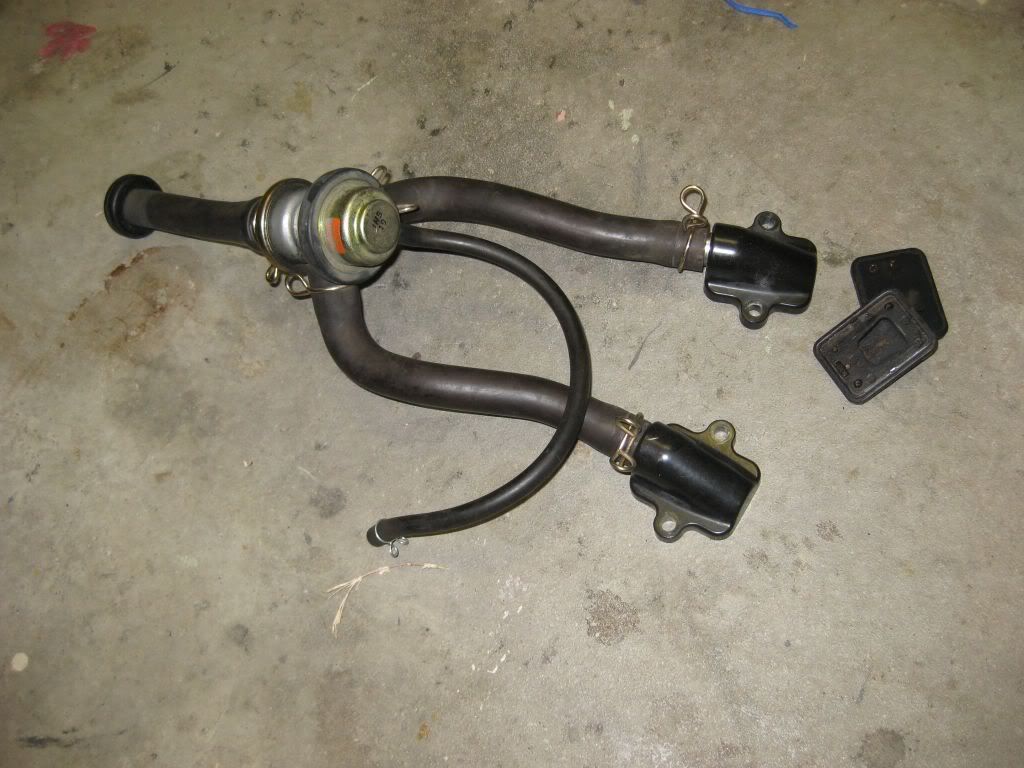 Edit: Fixed typos