My apologies up front if anyone feels this particular forum is not the place for this thread.
Also, I thought we had a tool thread ages ago. After using the search function, I did not find one, or I would have resurrected it here.
My idea for this thread is that those of us who have what we might collectively refer to as a tool kit of some substance post our preferred tools.
That way others might have a resource for recommended tools in a single spot on this forum. Also, I figured this is the FYI part of the forum and thus where this thread belongs.
Enough of the blather though, lets talk tools.
I initially looked around for a "Tool Thread" because I wanted to share with the forum a tool I discovered at work recently.
As I've posted many times, I work as a mobile heavy equipment mechanic. As such, I do an amount of fabrication work at least weekly. This includes welding and the associated metal prep work involved.
I had to do some recently and went to our tool crib to find a scotch brite wheel for my die grinder. As we were out, I went to our body shop to find more.
The guys there told me they didn't use them anymore. Then gave me what they were using instead.
It still the same 3M Roloc stuff as the scotch brite wheels but now they use what 3M calls a bristle disc.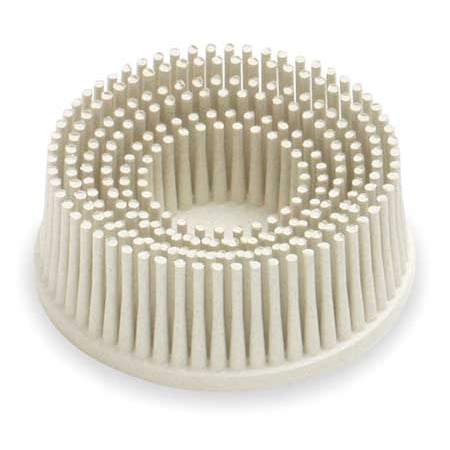 That's what they look like, and they come in other colors and diameters. The one I used at work was about the size of the one above, or 2". There are also 3" and 6" for larger grinders.
They also come in small 1" diameter discs. Each color indicates the "grit" or aggressiveness of the disc. White is equal to 120 grit. Green is like 50 grit. Yellow is 80 grit and Purple is like 30 grit.
Why is this significant? If you are doing any kind of project where you need to remove rust, paint or other corrosion, or engine work where you need to remove a gasket, these are applicable.
They remove all the above without doing damage or marring the metal you are trying to clean. As I am in the middle of a complete frame off resto-mod on a 1993 Ducati 900 Super Sport, these are going to be really handy for paint removal and other such jobs where I don't want to mar the metal beneath.
Anyone else out there doing similar work will no doubt find these as useful as I do. I used the yellow 80 grit at work to remove paint, rust and gasket material from a cylinder head end cover.
It removed all of the above without removing metal from the cover which had to remain true in order to seal against the cylinder head. It worked phenomenally in that, I was able to do the job quickly, easily and accurately.
When I was done, and the cover was repainted I installed it and after refilling the coolant and running the engine up to operating temperature, the cover did not leak.
Based on that experience, using the bristle discs on things like the frame and wheels should yield the same results........sean